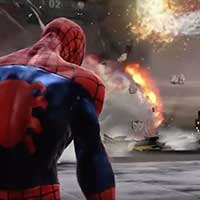 Spider-Man: Web of Shadows
Voice of Spider-man in Web of Shadows
---
Now this was one incredible ride.
In late 2007 I drove to my voiceover agent's office to record a batch of auditions. Two of those auditions were for the voice of Spider-man, but one was for an upcoming videogame while the other was a promotion for Underoos (yes, the kids underwear company); wherein, kids would get a phone call from their favorite superhero.
A week later my agent called. "You got the Spider-man job," she said with glee.
"The underwear phone thing, right? Cool." I asked.
"No the game!" she said.
I'm still in shock. There wasn't a callback, just one audition and I was the guy. Awesome.
The script was extra large because players can play as Red or Black spidey which essentially doubled the page count. Writer, producer, director, Mark Walters told me they heard my audition and "just knew it was a fit." They were looking for a young voice who could be playful and still carry the action.
After 20 sessions at the wonderful PCB Studios, my job was finally done. During that time I had the honor of very briefly meeting Fred Tatasciore and Steve Blum between session times.
There's more to my story with Spider-man: Web of Shadows, so next time you see me ask how Comic-con 2008 went.
See more Videogame Samples, and if you'd like to pitch your project, I'd love to hear it.
While I have a very PROficient home studio, I do fly often to Los Angeles for recording jobs, so don't let distance be a factor in getting the right talent for your game. 
---
Voice of Spider-man in Web of Shadows