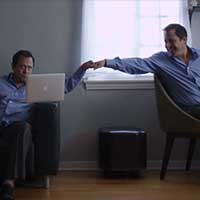 Magik Randy
Mike Vaughn plays with himself in Magik Randy
---
I got an email one day asking if I'd be interested in a NYFA (New York Film Academy) short film project. No audition, nothing. Well, that's not totally true, I had auditioned for Alexi Vanderstraeten months before. He remembered me and just offered the role of  "Randy," a likable looser who discovers a new power.
The film was shot over two days in Studio City and just block from the Dave and Dave Recording Studios (Now called LA Digital Recording), which I used for one voiceover audition and one gig. It was a very convenient situation.
See more of my on-camera work here.
Here's a full list of the great NYFA students who worked on this fun one:
Alexi Vanderstraeten, Director, Writer
Danielle Dankelman, Executive Producer
Jessica Serio, Co-Producer
Renaud Tilquin, Executive Producer
Stéphane Vanderstraeten, Executive Producer
John Rosario, Cinematographer
Alexi Vanderstraeten, Editor
Kenechi Oragha, Set Decorator
Emily Jacobsen, Makeup Artist
Jessica Serio, Assistant Director
Sam Aston, Boom Operator, Sound Mixer
Alexi Vanderstraeten, Digital Effects
Simon Drivdal, Key Grip
George Leone, Assistant Camera
Jonathan D. Moss, Assistant Camera (as Jon Moss)
Patrick Rosenfeld, Gaffer
Emily Jacobsen, Costumer
Fernando Camargo, Script Supervisor
Anastasia Reinhard, Production Assistant
---
Mike Vaughn plays with himself in Magik Randy