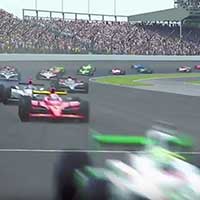 ESPN
Indy 500 Promo Voiceover
---
I'd like to show you what a job like this looks like from start to finish.
First up, is the audition that came from my agent, which listed:
Specs:
Male (30 – 50)
Think horror movie i.e. S7ven
It has to be dark
Looking for a strong actor
Client thought Mike's demo was too 'peppy' so they're looking to hear some edge in the audition
*Would be great to have three different takes on the script. 1) Dark and a little on edge 2) A little more demented 3) Completely demented
No accents please.
VO:
OPEN
Why do I do what I do?
It calls me.
It torments me.
There is no logic. No reason.
If the physics cannot be reconciled…
If the risks shadow the rewards…
How can any rationale within my mind….be truly justified?
This is my obsession.
Why I dare.
Why I drive.
As a voiceover actor, you take all that, make your acting choices, and give it a few efforts to see what's working and what isn't. I remember making the choice that I was a scientist on a personal mission to fix the injustices of the current world order had placed on the masses. A mission that nobody else understood.
I read anywhere from 3 to 12 takes after I've made my acting choices. If one of the latter takes works, I do some light editing and send it off asap.
And by the way, this job was auditioned, booked, and recorded in the same day. That's how fast this VO business can work.
You can watch the full video on YouTube here.
There's more "Promo VO Work" for more voice work on Promos and Trailers, and if you'd like a free scratch track, just ask. If I can get to your request, rest assured I will.
Home Studio Notes:
Auditions and jobs recored in my professional home studio using: Sennheiser 416, Rode 2000, and NT2 microphones, Focusrite ISA One Pre Amp, Scarlet 18i20 Interface, Logic Pro, ProTools. Connections available: Source Connect Standard, Zoom, Skype, FaceTime, Phone, pretty much whatever. I'm always happy to offer free scratch tracks to help with your edit.
---
Indy 500 Promo Voiceover