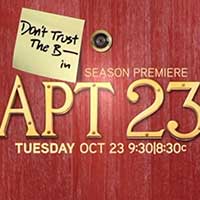 ABC
ABC Promo Voice
---
One of my first major network promo voiceover jobs was for ABC, more specifically the show "Don't Trust the B in Apartment 23;" Which, by the way, was originally titled Don't Trust the Bitch in Apartment 23. A couple of producers mentioned that the pilot script was more edgy and could have fit over at HBO. Twas, ABC who produced it and smoothed out the edges a bit. Ok, a lot of bits.
If you're reading and wondering what "Promo Voiceover Work" is all about, just think of the advertisements for TV shows and networks that are shown in commercial breaks. It's not so much the "In a World" guy as much as it is, "Coming this Fall to CBS" guy. Before you write you letter of complaint, by "guy" I mean man or woman. But if we're being honest about this industry, it's a disproportionate amount of men who voice this stuff.
Side note: Have you noticed less and less of the voice person in both movie trailers and TV promos? Your ear is correct, there is an active trend to use the actual content of the show to tell the story and avoid the VO person altogether.
These promos were created before this trend, but producers were looking for a non-traditional promo voice. Someone with a coolness, a texture, an edge, a raw, wry take on this in-your-face show. My technique for this project was mostly imagining I had a scotch in one hand, a cigar in the other, while talking to my cool ass neighbor Sam Altman, who had a hand in helping me get this gig in the first place. Amazing how things work, isn't it?
I have more Promo VO Samples, and if you'd like a free scratch track, just ask.
My Home Studio is PROficient. Utilizing: a Sennheiser 416, Rode 2000, and NT2 microphones, Focusrite ISA One Pre Amp, Scarlet 18i20 Interface, Logic Pro, ProTools. Connections available: Source Connect Standard, Zoom, Skype, FaceTime, Phone, pretty much whatever. And I'm always happy to offer free scratch tracks to help with your edit.
---
ABC Promo Voice